Ahead of ODC/Dance's performances of boulders and bones and The Velveteen Rabbit, we asked Yayoi Kambara, founder of KAMBARA+, to reflect on her time in the University of Minnesota dance program. After graduating, Kambara had a successful career with ODC/Dance before moving on in 2015. Here is her essay:
Paula Mann, my modern dance professor and mentor at the University of Minnesota, asked me a critical question right before my graduation: "What do you want your day to look like?"
My answer came quickly and felt crystal-clear: "I want to take a class in the morning and rehearse in the afternoon." I went to the U thinking I would become a teacher but the professors and the department pushed me to perform and train in the BFA program, exposing me concert dance, dance theater, and improvisation.
Reading Deborah Jowitt and Arlene Croce's reviews in Dance Writing class, critically thinking about performance and the body, I aspired to participate in work that was content driven while being technical.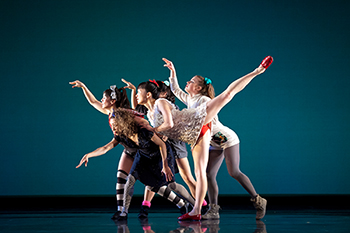 Pearl Ubungen came to Minneapolis in 1999 through the McKnight Fellowship. Pearl is an activist dancemaker working with musicians and community members. That summer I worked with her in Minneapolis and then moved to San Francisco after I graduated to work on another project with her.
I see a thoroughfare between Minneapolis and San Francisco: both liberal and intellectual with enthusiastic art/activist communities.
Eventually, after freelancing several jobs, I was invited to join ODC in 2003, where I reached my goal of taking a class every day and then rehearsing. Some days I would take a class in the morning, rehearse, and then take another class at night. I was thrilled to become a company member at ODC, go on a monthlong State Department tour in South East Asia, and perform in festivals in Europe with my friends and colleagues.
ODC was a training ground that allowed me to experiment as a performer and movement generator. I also got to be a mom and continue dancing. I had three directors who all had children.
A couple of years before my retirement from the company, I remember sitting with KT Nelson and Brenda Way during my annual review when they asked me what I wanted my life to look like after retirement.
I had the same feeling of clarity as I did when I answered Paula.
"I want to choreograph."
Brenda answered, "Well, of course."
During my transition year between company member to choreography, KT created training opportunities for my next steps as a choreographer. She let me assist in creating new works and choreography for operas while offering mentorship. Brenda most recently got my company a performance gig with famous U of M alumni Garrison Keillor for his Mardi Gras show last year in San Francisco.
Whenever I am at a crossroads or questioning what kind of creative life I want, I ask myself the same question Paula Mann asked me a very long time ago: "What do you want your day to look like?"
For now, I want to work on choreography that creates a space for empathy and dialogue. In a world becoming alarmingly more conservative and segregated, taking time to choreograph with a diverse cast is my way of preserving optimism as dance can represent the ineffable resiliency of the human spirit to continue in the face of uncertainty.
I'm grateful for the training the U and ODC/Dance gave to me as I stay on this path.