After twisting and zig-zagging for hours on roads deep in the mountains of Massachusetts, I finally made my way to Jacob's Pillow to see Bereishit Dance Company.
The location in Becket, MA is charming and the views are stunning. I felt inspired standing at the first theatre in the United States designed specifically for dance. It is fantastic to think about how dance has grown as an art form since that time.
After staring into space in awe of the history at Jacob's Pillow, I pinched myself and decided to go for a walk. Lucky for me, Northrop's previous student engagement intern, Abby, was working at The Pillow and was able to show me around. After dancing in the rehearsal space, purchasing my very own Jacob's Pillow wine glass, visiting the archives, and polishing off a delicious dinner, I made my way into the intimate Doris Duke Theatre for a captivating evening of dance. 
The first piece performed was Bow (2014), a striking male duet.Inspired by the tradition of Korean archery, Bow examines the physical training as well as the mindfulness needed to execute archery successfully. To me, the philosophical idea underneath explores the moment when you pull back the string—it's very slow and tranquil. However, when you release it, it goes fast. The partnering reflected this. It was innovative and showed fast and slow movement—harsh and gentle. I also found it refreshing to see two males partner together.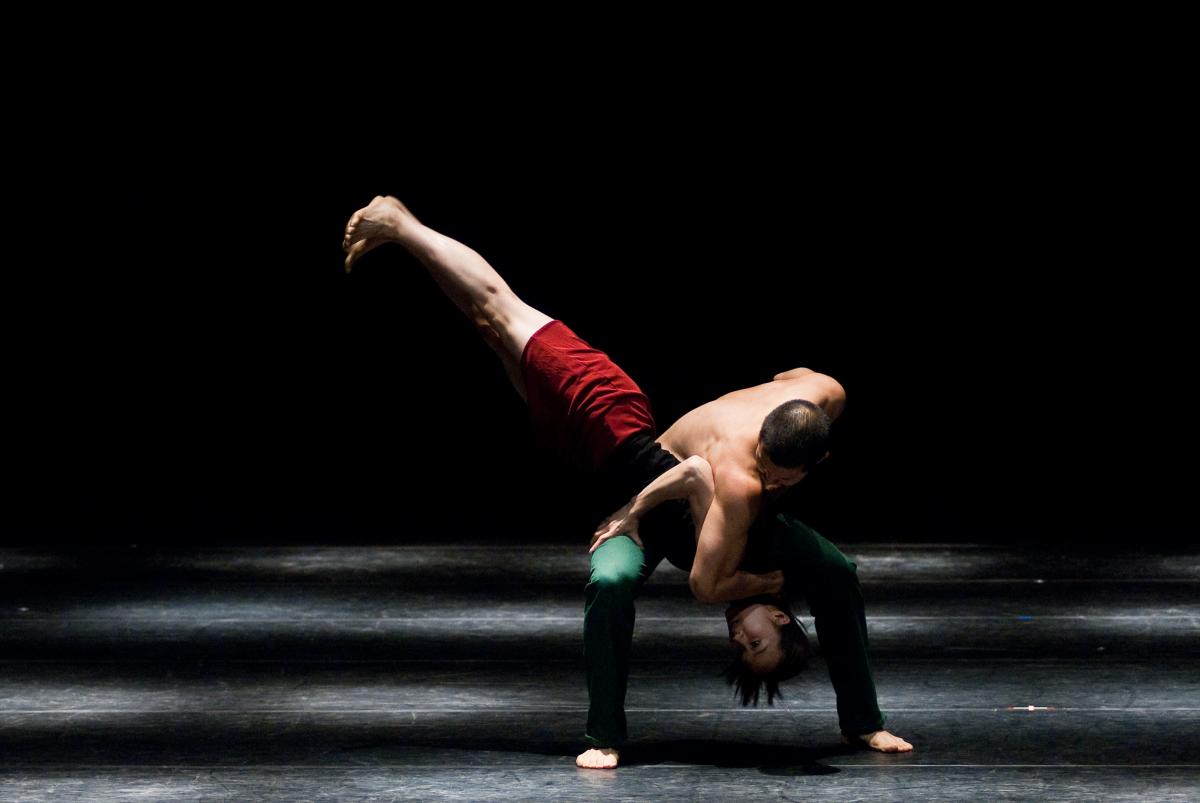 The ensemble work Balance and Imbalance (2010) was full of clever choreography between the dancers and was accompanied onstage by two traditional Korean drummers and a pansori singer.  It's my understanding that the term "pansori" is derived from "pan" (Korean meaning: "a place where many people gather"), and "sori" (Korean meaning: "sound"). This traditional music (from the 17th century), was mixed with present-day movement and I enjoyed the juxtaposition in that.  The vocals were also in Korean. Although I didn't literally understand the words, the acting conveyed allowed me to follow along. Additionally, Balance and Imbalance shows off the dancers' strength and physicality. There are flips, lifts, and jumps that are really athletic and exciting to watch.
So, although no one seems to pronounce "Bereishit" the same, I think we can all agree that the work was physical with fresh choreography and creative and playful movement. We were in standing in amazement and applauding at the end. I am very grateful that I get to see Bereishit Dance Company at Northrop again in February – I can hardly wait.