Last week I had the chance to chat via Skype with Jacqueline Burnett and Jeffrey Duffy, two members of Hubbard Street Dance Chicago.  Lucky enough to grab some time during their lunch break, we talked about Hubbard Street's upcoming performance at Northrop, the ins-and-outs of being a professional dancer, and I learned a little more about these two performers. Here's what they had to say.
Q: How did your career take shape? How/When did you know you wanted to pursue a career as a professional dancer?
Jacqueline: "When I was 16 I was able to go to Julliard for a summer intensive. I'm from Idaho, so when I went to NYC and was exposed to all these kinds of different dance and meeting choreographers who were making a living out of choreographing in NYC I was opened up to this whole new world and realized there was more to this whole dance thing than I had ever know before. From that time, becoming a professional was at that back of my mind."
Jeffery: "I started dancing when I was three years old. I had taken a class in my preschool, and I got into my mom's green Oldsmobile and I was like, 'Mom, I wanna dance!' Ever since then I've been dancing, so that's when it started taking shape. I received a full scholarship from Dance Theater of Harlem after doing a summer program my sophomore year of high school, and that required a move from Georgia to New York. My mom picked up everything and went with me to New York so I thought, 'You're the best mom ever and I guess I better do this!' So, that was the moment when I knew this was for me."
Q: What was the most challenging piece of repertoire you've performed so far? Do you have a role or piece that is your favorite to perform?
Jacqueline:"One of my favorites and one of the most challenging is Quintet by William Forsythe. It's kind of marathon of dance and never-ending, but it's a pleasure to perform because the choreography allows a lot of freedom within it and even though you have very specific ideas about what you want to accomplish, the way you accomplish them can be completely different every time. It's always rewarding to get through that and have a different experience along the way. Also, Casi Casa by Mats Ek is one of my all-time favorites. It was just amazing to dance because Mats has so many layers of development through the piece. It's very specific movement vocabulary, but it goes much further than the vocabulary. You have to become this character with very specific ideas about the story and that's a challenge."
Jeffery: "I'd say the most challenging piece I've ever performed was He Who Summons and Dark Meadow by Martha Graham, just because the work is so dense and we were lucky enough to have a really long process that went about 6 months of just diving into this work. [Martha Graham] is really about physicality and spirituality and it was about the exploration of this one women and my character guided her through that – and at the time I was kind of guiding myself through the same thing, so it was timely I'd say."
Q: Tell us more about the piece Solo Echo, which you'll be performing here on January 30. What roles do you play to convey this story?
Jacqueline: "We're still settling into that piece so it's going to be nice to get to perform it again at Northrop. It's based on a poem by Mark Strand about a man coming to the end his life and seeing all the different representations he's been throughout his life and coming to terms with them and in the end saying, 'I can embrace you all. I can leave.' We all play the same person, or, aspects of one person. And that's fun because we all have different dancing parts in it."
Jeffery:"The different dimension within the individual is what Crystal explores and you start to notice the different temperaments that each character takes on and it actually made me reference Balanchine's The Four Temperaments as you start to see the same person unfolding through their life."
Q: Can you tell us a little more about William Forsythe's N.N.N.N. which you'll also be performing here at Northrop?
Jacqueline: "That piece is awesome. Every time it goes onstage it's a different animal. We all have different energies that we bring to the piece and there's no right way to do it. There's a huge spectrum for what could happen. You have to be ready for anything and be to able to respond and react to your own choices and connect those to the people you're dancing with."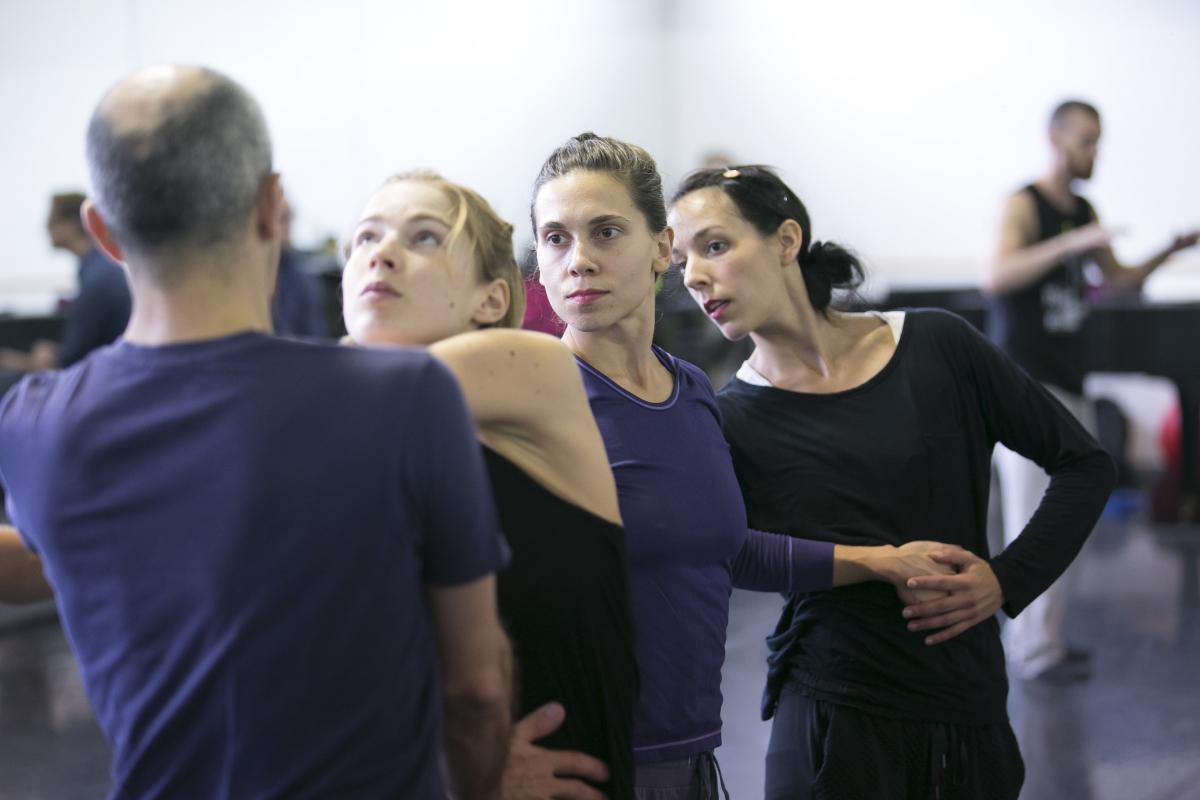 Hubbard Street Dancers in rehearsal for N.N.N.N. by William Forsythe, from left: Staging artist and original cast members Emilie Leriche, Jacqueline Burnett, and Ana Lopez. Photo by Todd Rosenberg. 
Jeffrey: "I have to say it's my personal favorite right now. Mr. Forsythe came for a week and we were instructed to act as 'conductors' as well as an 'orchestra,' so there's a heightened sense of listening to our bodies as they make sound. There's a really human quality to it and it's cool for the audience to see the work that goes on. It's not flashy or trying to portray this effortless idea of a dance. It's just listening and being in tune with your fellow dancers. It's a really unique piece."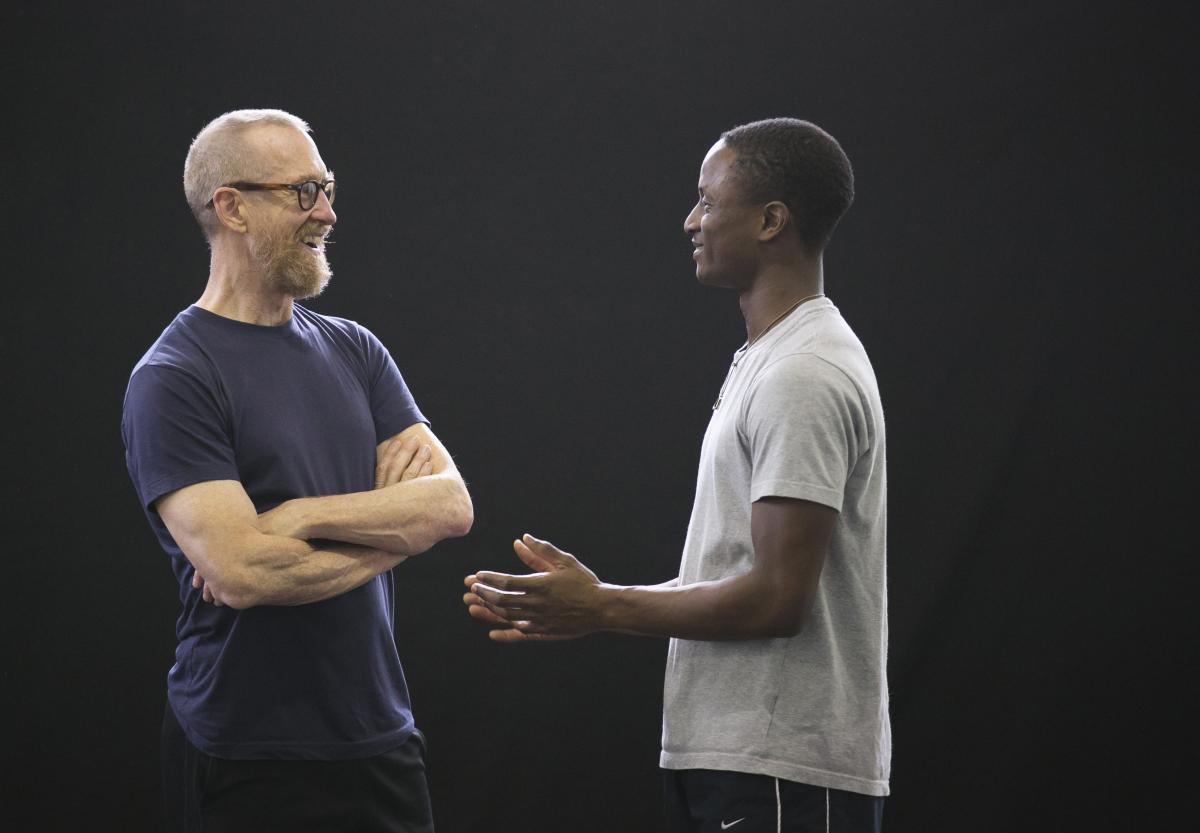 Choreographer William Forsythe, left, in rehearsal with Hubbard Street Dancer Jeffery Duffy. Photo by Todd Rosenberg. 
Q: Now, let's talk about your career. What would you say has been the highlight of your dance career?
Jacqueline: "Getting to work with different choreographers is really a highlight. We just did the Forsythe program in October and had four former Forsythe company members and William Forsythe himself working with us. That was a really special time. It just felt like I was becoming the artist I always wanted to be. I got to do the Dance Motion US tour to North Africa and Spain and work with people of a different culture and dance backgrounds, and realizing our shared language was our movement was very cool."
Jeffery: "I'm quite new to the company. I just started in August and prior to that I was in school at Julliard so I would say so my career is just now stating. It's incredible to be with this group of artists who are really mature and really know what they're doing and I feel like I'm in this place of awe and observance." 
Q: What does a typical week of rehearsal look like for you?
Jacqueline: "10:00 am – 6:00 pm every day and depending on the day we might get out early because we won't be called for every piece that's being rehearsed. Before rehearsal starts we'll have a ballet class from 10:00 am-11:00 am, a 20-minute break, and then rehearsal will go until 2:00 pm, and then we have a lunch break until 3:00 pm, and then rehearsal continues."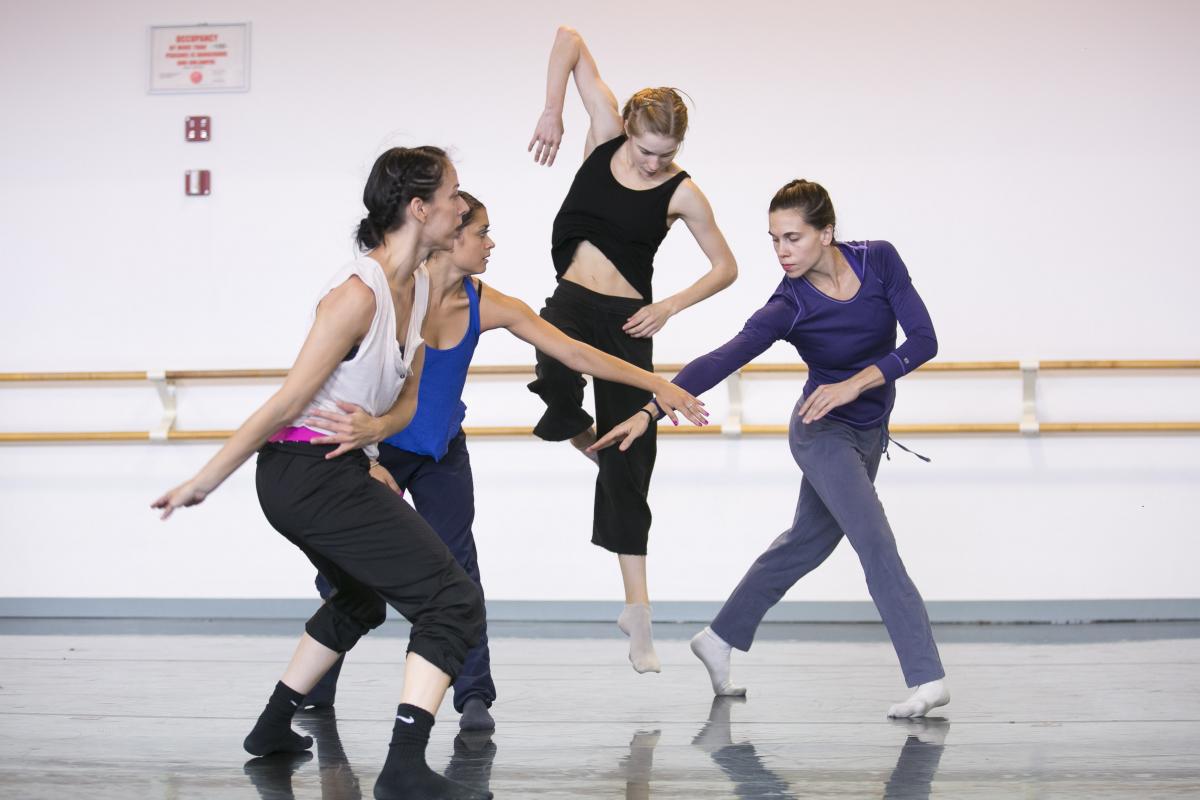 Hubbard Street Dancers in rehearsal for N.N.N.N. by William Forsythe, from left: Ana Lopez, Alicia Delgadillo, Emilie Leriche, and Jacqueline Burnett. Photo by Todd Rosenberg. 
Jeffery: "If we're home, it's 5 day week with the weekends off, which is great."
Q: With such a demanding, busy schedule, how do you find balance between work and your personal life?
Jacqueline: "It's very easy to do with this company."
Jeffery:"Yeah, it doesn't really feel like I need to separate myself from my work. Being a dancer is a lifestyle and you're just always aware of your body. I feel like dance is this medium that I experience life through and I enjoy seeing life through that lens."
Q: What is the most rewarding part of being a professional dancer?
Jacqueline: "When you get to talk to an audience member after seeing something and they tell you something has changed from watching you, the ensemble, the choreography, and the fact we're able to open minds in ways that we're not even aware of.  Also, just being able to work very closely with a very intelligent community of people."
Jeffery: "Touching people. We got a really beautiful blog from a professor at the University of Arizona and it was about N.N.N.N. when we did it in New York. The blog was just so beautifully put. I can't really ask for more than that. So, to have people give these visceral reactions and become more in touch with themselves from those experiences is probably the most rewarding."
Q: And now for some fun, easy questions…. What is your favorite show to binge-watch?
Jacqueline:"I've been watching Transparent."
Jeffery:"I love documentaries. There's this really cool show on Netflix called "Mankind: The Story of All of Us. I'm obsessed. And, "How We Got to Now" on PBS. It's incredible."
Q: What is your spirit animal?
Jacqueline: "Something in water. Maybe a sea turtle or something like that. Pretty slow, it lives a long time, observes things…"
Jeffrey: "My girlfriend always calls me a horse, so I'm going to say horse."
Q: What is your favorite thing to do when you're not in rehearsal or on tour?
Jacqueline:"I like to cook, listen to music, see live music. I like to see other types of shows and live art."
Jeffrey:"I'm kind of a homebody. I like to read, write poetry, lay down." 
Q: What is your favorite restaurant in Chicago?
Jacqueline: "Lula Cafe. It's near my house, and I love brunch there. Brunch is my favorite meal of the day."
Jeffrey:"Wakamono. It's a Japanese restaurant near my apartment."
Q: What is your favorite travel destination?
Jacqueline:"Istanbul was awesome, but I have a lot of places to go still, so I don't know that I can choose a favorite right now."
Jeffrey:"Stockholm, Sweden."
Don't miss Jacqueline and Jeffery, along with 16 other amazing dancers January 30 when Hubbard Street Dance Chicago takes the Carlson Family Stage.