Northrop in the heart of the University of Minnesota, Twin Cities campus
A Controlled Burn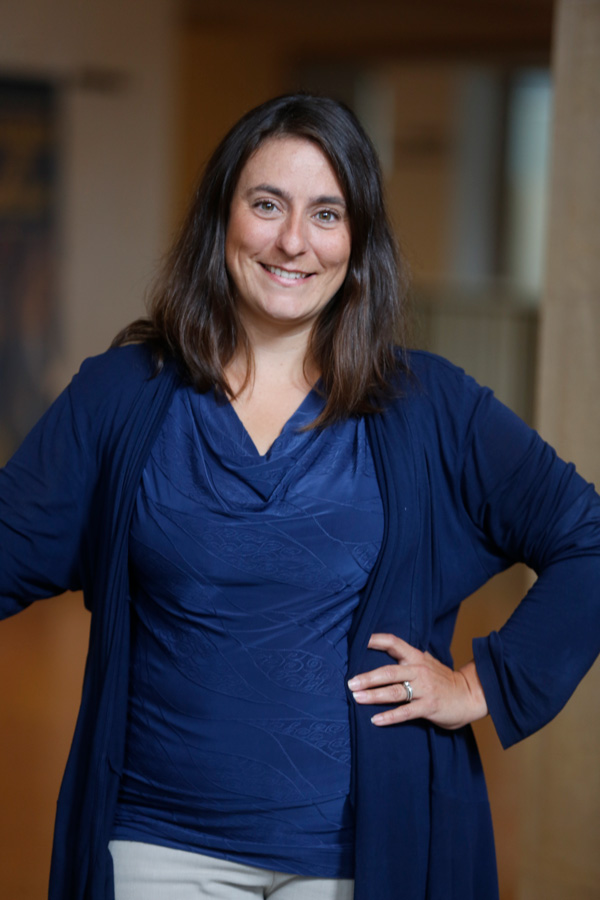 As I look back over the challenges of the last few years and the resulting evolution of Northrop, I can't help but draw parallels to a forest that has endured through a wildfire. A wildfire can happen accidentally through forces of nature, such as a lightning strike. Or it can happen intentionally as a way to maintain and restore the health of the forest. In either case, over time the result can be rejuvenation. 
The "lightning bolt" that started the wildfire that ravaged live performing arts worldwide came in the form of a global pandemic. We knew very quickly that change would be inevitable, and we had two choices. We could sit back, let the wildfire run its course, and sift through the ashes when the time came to rebuild. Or – we could roll up our sleeves, get a little sooty, and turn that wildfire into a controlled burn.
We rolled up our sleeves. 
During that first year, we thought about what the Northrop of the future should look like. We shaped the direction of our fire, intentionally letting go of what was no longer useful, and feeding the things we wanted to thrive. By the 2021-22 season, our forest was starting to regrow in new and beautiful ways. The story that follows is one of regeneration, renewal, and rebirth.
Beauty from ashes.
—Kari Schloner, Executive Director
Photo by Tim Rummelhoff
Rooted in the belief that the arts are essential to the human experience
At a Glance
Jul 2021-Jun 2022
Northrop Presented
Created New Work
Audiences Found Northrop
Connecting In-person & Online
Visitors Welcomed
Events at Northrop
Martha Graham Dance Company in Canticle for Innocent Comedians. Photo by Jayme Halbritter.
Northrop's 2021-22 Dance Series was packed with in-person events, showcasing new works born out of Northrop's Centennial Commissions Program, and powered by an extraordinary level of audience and donor support.
SW!NG OUT. Photo by Jayme Halbritter Photography.
SW!NG OUT
Twin Cities Tap Festival. Photo by Christopher Duggan.
Twin Cities Tap Festival
"Afterwardsness" Photo by Stephanie Berger.
Bill T. Jones/Arnie Zane Company: Afterwardsness
"Higher Ground" Photo by Tony Nelson Photography.
Dance Theatre of Harlem
Alanna Morris. Photo by Canaan Mattson.
Black Light a re:Search performance by Alanna Morris and Collaborators
"A Call for Softer Landings" Photo by Jayme Halbritter Photography.
Paul Taylor Dance Company
"Fires of Varanasi: Dance of the Eternal Pilgrim" Photo by Jayme Halbritter Photography.
Ragamala Dance Company
"Canticle for Innocent Comedians" Photo by Jayme Halbritter Photography.
Martha Graham Dance Company
"Metamorphosis" Photo by Emmet Kowler. Courtesy of Walker Art Center.
Third Coast Percussion with Movement Art Is
Previous
Next
Every artist featured in Northrop's 2021-22 Film Series explored the theme of dance for the camera and each film was available for on-demand viewing at a pay-what-you-can ticket price, to be accessed by anyone, anywhere.
Northrop's 2021-22 Music Series celebrated historic occasions, traveled down memory lane, blended rhythm and color with movement, and created original soundscapes by taking music of the past and making it new again.
Dean Billmeyer. Photo by Tony Nelson Photography.
Dean Billmeyer Holiday Organ Recital: A Winter Meditation and Celebration
Cameron Carpenter. Photo by Dovile Sermokas.
Cameron Carpenter
"Metamorphosis" Photo by Emmet Kowler. Courtesy of Walker Art Center.
Third Coast Percussion with Movement Art Is
Hector Olivera. Photo by Greg Helgeson.
Hector Olivera: Tantalizing Transcriptions and Tangos
Previous
Next
Photos by Jayme Halbritter Photography, Tony Nelson Photography, V. Paul Virtucio. Drone footage by Michael Welsh, Sky Candy Studios.
Creating a Landscape of Breathtaking Beauty
Northrop photo by Rebecca Slater Studios.
Event Services Beyond the Building
Northrop is truly a center for events—reaching far beyond those that take place in its stately home at the University of Minnesota Twin Cities campus. In 2021-22, U of M Tickets and Events at Northrop provided ticketing support for the entire UMN system statewide, offered ticketing services for the Twin Cities cultural community, managed the online calendar for thousands of events taking place on the UMN Twin Cities campus, and more.
Connection Through Collaboration
The boundless power of arts and education ignites transformation and inspires positive change—this belief is at the heart of Northop's vision. With partners across the campus and beyond, individuals participated in events that focused on our cultural diversity, honored changemakers, and shined a light on our shared responsibilities to each other now and into the future.
New York Times-bestselling author Robin Wall Kimmerer and Dakota author Diane Wilson. Photo by Rebecca Slater Studios.
Inspirational Partnership Events
Honoring a Minnesota Leader and Legend
On May 1, 2022, Northrop had the honor of hosting the memorial service for former Vice President Walter Mondale whose longstanding ties to UMN began when he earned his law degree, and continued with his significant role in the life of the Humphrey School where he also co-taught a class on the U.S. Constitution and national security for 15 years. Prominent speakers reflected on Mondale's life and legacy including President Joseph R. Biden, Senators Amy Klobuchar and Tina Smith, Governor Tim Walz, University of Minnesota President Joan Gabel, and Mondale's sons, Ted and William. "Just imagine what our Nation could achieve, if we followed Fritz's example of honor, decency, integrity, literally justice the service to the common good. There would be nothing ... beyond our reach." —President Biden
"Even with the presence of national figures like Biden, Sunday's ceremony had a hometown flavor … On a gray day in Minneapolis, the lobby of Northrop … at the University of Minnesota, where the service was held, was covered with photos of Mondale fishing, hunting and flashing a smile."
—The Washington Post
Image from The American Flag as a Cultural Symbol, a Spotlight Series event.
Spotlight Series
Why Canoes? Capacious Vessels and Indigenous Futures of Minnesota's Peoples and Places.
Northrop Gallery Exhibit
Students enjoying a Northrop matinee performance.
Opening Doors for Students
Northrop is dedicated to providing as many students as possible opportunities to experience the joy and power of the performing arts—and its specially-designed matinees aim to elevate the student experience. 
With the return of in-person matinees, teachers and homeschool instructors brought students—with their curious minds and contagious enthusiasm—to the majestic UMN campus where they were greeted by the smiles of volunteer Ambassadors and helpful staff. Schools participated in Northrop's bus subsidies program, as well as the livestream and on-demand matinee offerings—sharing these performances with thousands of students. When teachers and students were affected by the Minneapolis School District strike in Jun 2022, Northrop reopened the viewing windows of these matinees at no additional cost.
Project Success once again partnered with Northrop to offer free tickets and childcare services at events, and the Minneapolis Public School Arts, Cultural Experience Program made both in-person and online music and dance performances available to students and their instructors.
K-12 Students
Student Matinees
School Participation
Subsidized Buses
Students In-person
Students Online
Image from the student matinee educational video for Ragamala Dance Company's Fires of Varanasi: Dance of the Eternal Pilgrim.
How Stage and School Become One
In-person and Online Student Matinees
A member of Paul Taylor Dance Company leads a dance class for Perpich Arts High School.
One-of-a-kind Student Experiences
UMN students make Northrop their own. You will find them at performances, lectures, concerts, film screenings, and other arts-related events—as well as taking part in study-ins, convocations, graduations (graduation photos!), student ceremonies, or simply meeting up between classes. Whether lounging on its towering steps on a warm day, meeting before an event under the iconic lobby chandeliers, or grabbing a coffee at The Bistro, students continue to make Northrop an integral part of their campus life and UMN experience.
Northrop in the Classroom
UMN Director of Dance Carl Flink with Michael Novak from Paul Taylor Dance Foundation, Janet Eilber from Martha Graham Dance Company, and Dante Puleio from José Limón Dance Foundation.
Partnering with The Institute for Advanced Study and the Office for Public Engagement
Unparalleled Opportunities for UMN Students 
Throughout the school year, artists and students intersected in inspiring and unique ways. Performance artists led a free discussion about how their work (featuring an ice cello dyed black and embedded with electronics) is a metaphor for the mental health crisis among communities of color, in partnership with The Great Northern and Weisman Art Museum. Students in Northrop's Director of Programming, Kristen Brogdon's class were immersed in a variety of cultural experiences. Visiting artists from world-renowned organizations including Paul Taylor Dance Company and Third Coast Percussion worked one-on-one with students in the classroom. Dancemakers turned filmmakers saw their films on the big screen at Northrop's Best Buy Theater. And as the semester came to a close, Northrop—already a study destination with its many naturally-lit, cozy spaces—offered free snacks, drinks, a treasure hunt, and musical study breaks during its annual Study-In!
Outreach Through Science and Art
Coming together to dance during the Lindy Hop workshop at The Southern Theater led by guest dancers from SW!NG OUT.
Northrop Strengthens Community
Community Engagement & Offerings
Artists found new ways to connect with communities as part of Northrop's engagement offerings—many of which were free for participants. Collaborations with grassroots organizations including Tickets for Kids, Hope Kids, Vet Tix, Project Success and smART pass connected youth and adult audiences from a variety of backgrounds with a number of 2021-22 events including Dance Theatre of Harlem, Third Coast Percussion with Movement Art Is, and a concert played by virtuoso organist Hector Olivera—all at no cost. As part of its community offerings, free childcare was also provided to Project Success attendees at key events.
Engagement Events
Volunteers
Free Tickets
Collaborations
Amplifying Solidarity
Through a series of summer events—and in partnership with Northrop, Radio K, Welcome Week, Multicultural Student Engagement, and the School of Music—Amplifying Solidarity used the arts to lift the voices of people who have been marginalized and underrepresented; to welcome the community, students, faculty, and staff back to campus; and to celebrate the campus community. During these free outdoor events, audiences gathered on Northrop Mall (and on Northrop's iconic steps) to engage with these notable local BIPOC artists who brought their stirring talent to the Northrop Plaza Stage.
Organist Hector Olivera discussed the Art of Transcription. Photo by Greg Helgeson.
Behind the Scenes Access
Kristen Brogdon, Director of Programming, in a performance preview with members of the SW!NG OUT Braintrust: Eyal Vilner, Macy Sullivan, LaTasha Barnes, and Evita Arce.
Performance Previews
Dancers, supporters, and staff came together at the ENCORE fundraising event in support of Northrop's Centennial Commissions program. Photo by Jayme Halbritter Photography.
Growing Together
It is the individuals—found in the Box Office and backstage, from the conference rooms to the classrooms, and from the donor's lounge to the rehearsal room—who truly power Northrop. Their involvement is fueled in part by a commitment to ongoing change as active, contributing members of UMN and the Twin Cities cultural community. Guided by its strategic plan, Northrop's growth in 2021-22 included the creation of a new staff position, and the welcoming of nine new staff members plus two new Northrop Advisory Board members—who brought their ideas, outside experiences, and enthusiastic energy to this vibrant community.
Photo by Jayme Halbritter Photography.
Photo by Jayme Halbritter Photography.
Photo by Jayme Halbritter Photography.
Photo by Tony Nelson Photography.
Photo by Tony Nelson Photography.
Photo by Jayme Halbritter Photography.
Photo by Jayme Halbritter Photography.
Photo by Jayme Halbritter Photography.
Photo by Greg Helgeson.
Photo by Jayme Halbritter Photography.
Photo by Jayme Halbritter Photography.
Photo by Jayme Halbritter Photography.
Previous
Next
10/20/30 Pledge
ENCORE Centennial Commissions Video
Your Support Inspires Change
When the future was shrouded, when artists were trying to find their way, and students were wondering what was next, you stepped up. This year, we witnessed the results of your commitment—new growth from the ashes. With each new dance on the stage, with each new face in the theater, and new viewer in the classroom, Northrop glowed with new life in its connection with you—our patrons, partners, artists, students, faculty, staff, and supporters. Each world-class performance, transformative educational experience, and deeply-rooted partnership would not be possible if not for our loyal, generous, and committed supporters. Today, we ask you to help keep this connection vital by supporting our upcoming work onstage, on campus, online, and in our communities. 
Thank you—we are profoundly grateful for your continued support of Northrop and its commitment to the arts, keeping it aflame and vibrant for many years to come.